Have you recently incorporated in Hong Kong and are looking for a company secretary? Or do you already have a company secretary but are not satisfied with their services?

If this is the problem you are facing, Startupr can help you manage your business and be compliant with the laws in Hong Kong.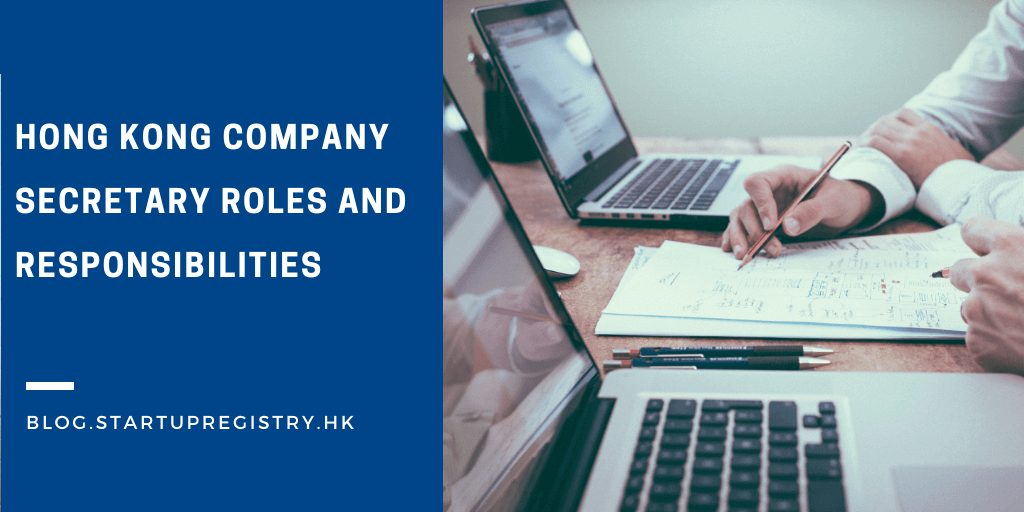 Hong Kong Companies Ordinance and Company Secretaries

The Hong Kong Companies Ordinance mandates every company incorporated in Hong Kong to be under the management of a Company Secretary, a physical location in Hong Kong, and at least one director. In addition, for public listed companies, it is essential to appoint a Company Secretary, even if it is not a Hong Kong company.

Appointing a company secretary in Hong Kong?

According to the Companies Ordinance under S.474, all limited private companies of Hong Kong shall appoint a company secretary. The secretary must ensure that the company follows all the laws related to the working of the company. Besides this, they have to be highly experienced in managing all the compliance matters. Therefore, a company secretary in Hong Kong must have keen knowledge of the corporate laws related to a company so that they keep the business in good standing with the government.

Having a company secretary allows you to make sure that all the company's filings are in compliance with the rules and regulations of operating a business in Hong Kong. A company's director or shareholder cannot act as a company secretary.

What are the Duties of a Company Secretary in Hong Kong?

To be a good company secretary in Hong Kong, one should understand the context of the company, company process, and policies to make sure that the company is in compliance with Hong Kong laws. The company secretary acts as the bridge between the company and the government. They are liable to handle compliance issues and solutions of the company to the company's director.

Here is a list of the duties of a company secretary in Hong Kong :

To prepare and file the Annual Return of the company.
To keep track of the issuance and transfer of shares.
To monitor any changes in the legislation and the regulatory environment.
To have a discussion with the lawyers and auditors.
To process the deregistration of companies.
To attend other statutory corporate compliance issues.
To advise the company on the issues like bankruptcy and liquidation
To provide a registered office address for receipt of government mail.
To maintain records of all the appointments and resignations of directors.

Hong Kong Company Secretary Requirements

The government has introduced a licensing mechanism to monitor the performance of a company secretary service provider. This is under the license name TCSP, which is the Trust or Company Service Provider. So, if you are about to hire a company secretary for your company in Hong Kong, ensure that you see if the service provider is a licensed agency before using their services. To help you, you can check the name of the licensee here.

Startupr is a licensed agency, with our license number as TC003638. We have always ensured that our client goals are met and offer the best services to our clients. You can cross-check the license number with the link above as well.

Additionally, along with being a licensed TCSP, a company secretary has to be:

an individual who is a Hong Kong resident; or
a body corporate with a registered office in Hong Kong.
Startupr is a corporate body that offers many services around opening a company in Hong Kong, bank account openings and other business solutions.

We strive to keep our companies in compliance with the required yearly filings, as many business people tend to forget important dates for filing their forms, leading to late penalties. These issues can be avoided by having a company secretary who has the right amount of experience in the field.

What are the signs I have a bad company secretary?

While it may be easy to overlook the jobs a company secretary in Hong Kong does, it's important to note that without proper management, a business can easily lose track of its duties and required filings throughout the year.

Unfortunately, many company secretaries in Hong Kong fail to keep companies up to date, resulting in penalties, late fees, and even in the worst case, court summons for company directors for non-compliance.

The most common penalty is the late fee for the annual Business Registration Certificate (BRC). A sample of the penalty from the IRD is as below: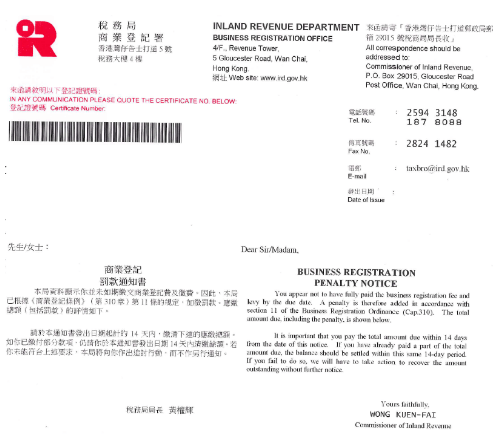 At Startupr, we keep all of our companies records up to date and remind our clients through our unique online system, Backoffice system. This system helps our clients on their timely annual filings and to avoid any unnecessary penalties from the government.

How to change your company secretary?

Certain company secretaries might give you unsatisfactory services and your company might suffer due to their inaction. Your company might also have to deal with many late filing penalties. If this is the problem you are experiencing, then it's time to change your company secretary.

Startupr is ready to offer you excellent company secretary services. We will help by reviewing the current status of the company and take action accordingly to get your company up to date with your company filings. With Startupr, you don't have to worry about meeting deadlines for all the important filings and legal obligations as we will automatically notify you in advance of any important filings. Follow the steps mentioned below in order to choose Startupr as your company secretary:

The first step is to request us to act as your company secretary.
After the request is received, the steps required for checking your company status and changing your registered company secretary will be planned.
Once the documents for changing your company secretary are ready, the company director needs to sign the change in the company secretary notification form. All of this can be done online.
After the registration is complete, Startupr will then be your new company secretary for your Hong Kong company.
Why choose Startupr company secretary services?

We understand choosing the right company secretary can be a tough task. We have been working with hundreds of companies and have years of experience in handling the needs business in Hong Kong. Our goal is to provide straightforward, reliable and effective solutions for our client's needs.

Startupregistry offer you low rates with full cost-effectiveness. Our quick and easy operations will help you with filing the services as soon as possible. We will cover all the duties of a company secretary in Hong Kong and will help you focus more on your business. As your business secretary, we will notify you to:

File the annual return (NAR1), which includes the list of officers & directors. This must be filed within 42 days of the anniversary of the initial registration date.
Renew the Business Registration Certificate via email 1-2 months before the due date so that you can remain updated.
To assist in filing the Annual General Meeting (AGM).
To notify you about due dates for each filing
Feel free to contact us, and we will be glad to serve you as your trusted company secretary.