Setting up a business also means the beginning of various services needed to run the business smoothly. Customers are the real foundation of any business, and the biggest challenge is to create trust between yourself and your customers.

In order to boost the confidence of the customers towards your business, you need a business address in Hong Kong for visibility to your customers. You may obtain such a business address by joining a mail forwarding service. Let's find out more about the mailing service and how it works.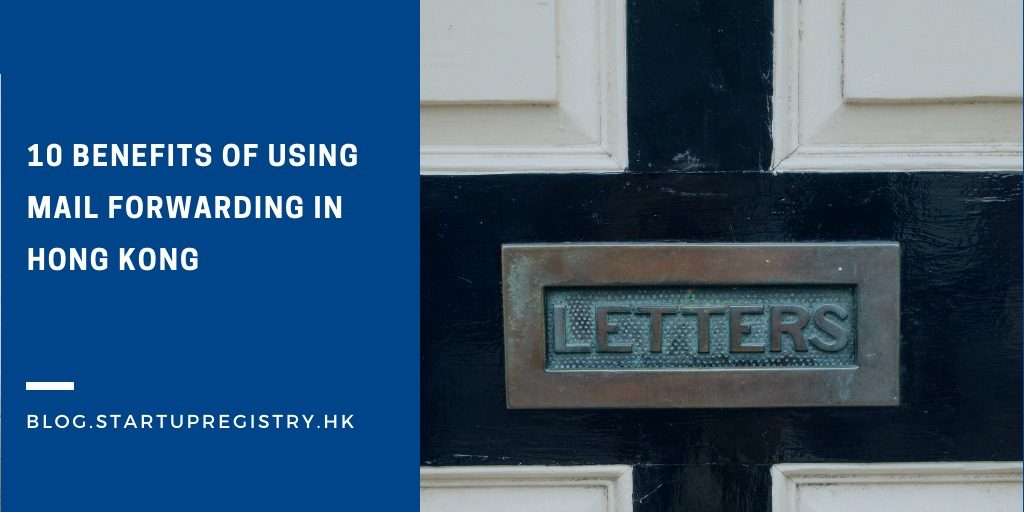 What is Mail Forwarding?

Mail forwarding service provides business owners with a more formal address that gives their businesses a higher level of respect, reputation, and exposure.

Mail forwarding in Hong Kong is the best option for those business owners who want to manage their paper mail. It can be any mail from the banks, business partners or any other companies or individuals, and can be forwarded to any desired location in the world. In fact, with this service in Hong Kong, you know exactly when you get the mail within a short period.
Why use Mail Forwarding in Hong Kong?

The mail forwarding service in Hong Kong is especially meant for those business travelers who might not be able to receive mail at their place of work or home. In short, the ones who don't have any access to mail.

This service is the best that you will receive when you choose Startupr. We offer the option of scheduling your mail out; whether you want it on a daily, weekly or monthly basis. Moreover, you can also get the choice of giving us the authority of scanning and sending your mail or not.

If you are looking for a trustworthy service provider that allows you to access your mail online anytime, Startupr has got your back in Hong Kong. You will get notifications via email the moment a company gets your mail.

How does mail forwarding work?

In Hong Kong, you can easily use Startupr's address as your own business address & mail forwarding. But you need to follow these steps-

Simply fill the form on our website or through our online Back office system with your account.
We will assist you to deal with your mails and business address.
Everytime we receive the mails, we will notify you via email and on our online system.
You can also schedule your mails out or we will scan and email them to you. As per your requirements, we will forward your mail to you daily, weekly or monthly.
Once your mail has been sent, you will receive notifications.
Benefits of Mail Forwarding Services in Hong Kong
As mentioned above the reasons for using mail forwarding services, given below are the advantages of mail forwarding services.

More professional image
One of the extended benefits of using mail forwarding services is that it helps small businesses build their company's integrity. During the early stages of any startup, having a professional image is the first thing you need to be thinking about.

Development, product design, marketing, competitor research – all these things and more take precedence. Mail forwarding is one way to bring out a more professional image of the company. Your startup is going to have to start looking like a professional business.
Maintain privacy
Many people run their businesses from home. Most people do not want everyone to know where they live, as this may put their families at risk. Mail forwarding services can provide business owners an office address that they can use everywhere so that their customers do not need to know their home address. Having mail sent to your office address allows you to separate your work and your home life.

Also, your essential business mails may get cluttered with junk mail that you usually receive. In such cases, you may end up losing this information by destroying the vital mail together with the junk. Mail forwarding services keep your privacy.

Never miss important mails
Most small businesses tend to miss important letters and packages because they are never around during delivery. It is incredibly frustrating to lose time-sensitive documents, and you may end up with extra costs that are a burden to the operations of your business.

By opting for a mail forwarding service, small business owners need not worry about missing any vital package or letters again. Someone will always be there to sign for their package on their behalf. Hence, saving the company any loss.

Improve customer experience
Whatever the business may be, customer satisfaction is always a priority. Mail forwarding is one such method that helps attain this.

It eliminates duplications and unnecessary mail forwarding. Your company has an adequately registered address where it can receive all the required mail and letters — this way, you earn potential customers the best way.

Flexibility
In the contemporary world, a small business must be flexible. If your business is too rigid, then it will fail. The thing about a new startup is that you never really know what the business will look like down the line or where it may end up. Maybe you'll have to scale back a bit or expand hugely.

Perhaps you'll convert into a totally different company than you thought you would. Whatever the outcome will be, the flexibility of a mail forwarding address can make it simpler to adjust to the changing conditions.

Cost-effectiveness
Small businesses can conveniently work at home without worrying about the missed packages with the help mail forwarding services. This can be done with the help of mail forwarding companies as they forward mail the same day they receive it depending on what time it is delivered. These services ensure that it reaches the business owners in a satisfying time.

Nowadays, companies have made it much easier for small businesses to manage their mail by developing mail forwarding apps that allow you to access your account uniquely. These apps can help with all your needs.

Paperless environment
A paperless environment is that which primarily use digital documents. This kind of atmosphere saves a lot of time, money, space, and it is secure. A paperless environment will help eliminate situations like losing essential documents that may have drastic consequences for your business.

Instead of having clusters of unnecessary paperwork that you were planning to shred, or shredded and yet not properly done, you can, with one click of a button, take care of this through the mail forwarding service.


Access to your mail at anywhere anytime (Digital)
Mail forwarding services give you a secure mailbox at a remote location that receives your mail and stores your postal mail and packages. You can access your mail anywhere and at any time. This is one of the significant benefits of mail forwarding in Hong Kong.

Physical storage space
With Mail forwarding services, one get storage space for your packages and mail so that they do not take space in your house. You do not have to fill your already filled home with extra storage and creating a mess. If you have a vast bulk of products and packages, you do not have to squeeze space in your home to accommodate them; the mail forwarding service will do this for you.
Mail Forwarding Service from Startupr

Mail forwarding service from Startupr supports customers by notifying them through emails whenever mails are received. Depending on the schedule and method you have chosen, your mail will be forwarded or scanned and sent to you. Startupr provides one-stop services and a professional platform which allows you to manage your mails without hassle.

What do we offer in our Mail forwarding service?

After reading the complete knowledge about the benefits of the mail forwarding, you must be looking for a reliable company to start the mail forwarding service. Startupr is one of those reliable companies which provides mail forwarding services in Hong Kong. Startupr offers a new, convenient way to handle your mails with a remote mailbox, where you can keep and manage all your paper mail from wherever you are.

We have clients from all over the world, from different industries of different sizes and backgrounds: including the IT sector, services industry, consulting services, and many others. These industries push Startupr to be dedicated and experienced in assisting with mail forwarding services, which aim to help the businesses strive to complete each engagement efficiently and effectively.

Startupr is your One-stop solution to your company's business needs, whether you are seeking mail forwarding services or any requirements for your  business. Contact us and sign up today.