What is the TCSP License?
According to the Anti-Money Laundering and Counter-Terrorist Financing Ordinance of Hong Kong (Cap. 615 "AMLO") a person who wishes to carry on the trust or company service business in Hong Kong obliged to apply for a Trust or Company Service Provider (TCSP) license. The Companies Registry is the leading authority to administer the legislation related to TCSP. However, some people who are qualified legal professional and accounting professionals are exempted from this ordinance.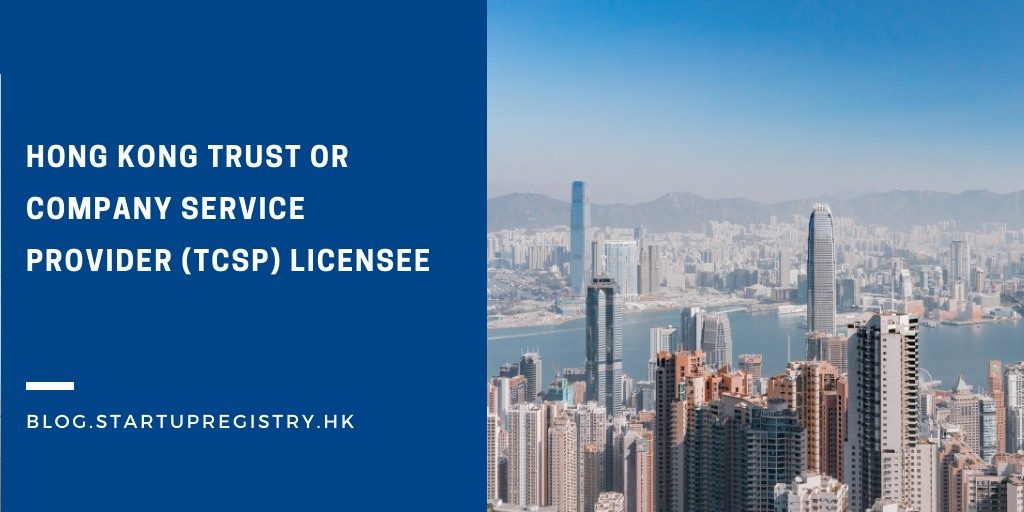 A license may be granted to an individual carrying on business as a sole proprietor, a partnership or a limited company. In relation to a limited company, a license is granted subject to the fit-and-proper test in respect of each director and the ultimate owner, as described below. Once a limited company is licensed, a person must not become a director or an ultimate owner without the Registrar's prior approval. In relation to the corporation, an ultimate owner means an individual who

owns or controls more than 25% of the issued share capital of the corporation.
is entitled to exercise control of more than 25% of the voting rights at general meetings of the corporation, or
exercises ultimate control over the management of the corporation.
In case any trustee who provides a trust or company service in Hong Kong but not under SFC (Securities and Futures Commission) licensed, must obtain a license from the Registrar to carry out such service. Otherwise, when a trustee commits an offense, or not following the rules of the new TCSP regime, then it would have to face the charges of imprisonment for six months. In fact, he would also be liable on conviction to a fine of HK$100,000.
What is Trust and Company Service Business in Hong Kong?
In accordance with the rules specified in Part 1 of Schedule 1 of the AMLO, trust and company services business means the provision, in Hong Kong, by a person, by way of business, of one or more of the following services to other persons:
Forming corporations or other legal persons;
Acting, or arranging for another person to act:
as a director or a secretary of a corporation;
as a partner of a partnership; or
in a similar position in relation to other legal persons;
Providing a registered office, business address, correspondence or administrative address for a corporation, a partnership or any other legal person or legal arrangement;

Acting, or arranging for another person to act:
as a trustee of an express trust or a similar legal arrangement; or
as a nominee shareholder for a person other than a corporation whose securities are listed on a recognized stock market.
A TCSP licensee needs to comply with the Ordinance to mitigate the risks of money laundering and terrorist financing ("ML/TF") by taking certain actions. As a TCSP licensee should assess the ML/TF risk of their businesses, create and implement their policies, procedures, and controls on certain areas including risk assessment and customer due diligence procedures as per the AML/CTF guidelines. Even though there is no "one size fits all" method for conducting such an assessment, the following factors will be taken when assessing ML/TF risks of clients:
Company Structure
For instance, at least one natural person director, one shareholder is needed, also beneficial owner is needed; if the company structure involves body corporate or many layers, we need to assess if the client is making the process difficult to identify the true owners or beneficial interest of the company; further advance level of due diligence may be needed.
Identity
Director, shareholder or beneficial owner need to be identified and ascertained if he/she is politically exposed person (known as a "PEP") who may be easier to have a higher chance take part in Money Laundering; also need to check if the person is in any sanction list;or any high-risk jurisdictions or countries where the person is residing or connecting – that may be subjected to sanctions, embargoes or a country believed to have strong links with terrorist activities , these should be taken into consideration.
Source of Wealth / Location of Wealth
The way of funds go to the company is another concern in AML/CTF, which usually come from where the customer is residing or connecting. If the client is connected with a high-risk country, the fund may be suspicious; If the funds come from some other countries which are not match with the background and business operation, we may need to have further questions on it.
Nature of Business
For instance, cash intensive business (eg: money service operators businesses), remittance service, multiple layers holding company, precious metal trading, antique / art piece auctions, which is considered as high-risk business, enhanced due diligence and advance Know Your Client (KYC) procedures must be applied.
In order to operate the trust or company service provider company, it is recommended that the licensee considers all relevant legislation and guidelines. A failure to comply with the requirements of AMLO could result in enforcement action from the Registrar.
Startupr TCSP Licensee – Our License No. TC003638
As of March 1st, 2018, all the trust and company service providers in Hong Kong need to apply for the TCSP regime. After a rigorous assessment by the Companies Registry for several months within the transition period, Startupr finally got approved.

Startupr received the TCSP license number TC003638. We officially become a Licensed Company Secretarial services provider in Hong Kong. The registration number "TC003638" has a special meaning in Chinese which describes, "continued growth and business prospects". If someone wants to write that number in the Chinese language, it has been written like this "生祿生發".

We are authorized to render the following services in Hong Kong for all our customers:

Formation of Hong Kong Companies.
Providing professional secretarial services and advice for customers.
Providing the registered address, business address for a corporation.
Arranging Government filings for companies, directors, shareholders.
Assisting customers to keep companies in good standing.
Conclusion
For more information about the new license regime, feel free to contact Startupr. We have been working for years on setting up and managing companies in Hong Kong for our customers. Our separate online Backoffice system helps tracking all the details and required annual filings of companies, all in one place, which is a friendly platform to suit the needs of our customers. You don't need to worry about any issue for incorporation, registration or running business. Startupr can assist you every step with smooth and easy processes to set up your company.